Writing Retreats for Your Wish List (Part 3)
This is the third and final part of my Writing Retreat Wish List series! If you missed the other two, you can read them here: Part 1 & Part 2.
---
Today I'm sharing a list of places where you can host your own personal writing retreat.
Go anywhere in the world. Choose your co-writers (or choose solitude). Eat what you want, when you want. Plan your own writing retreat!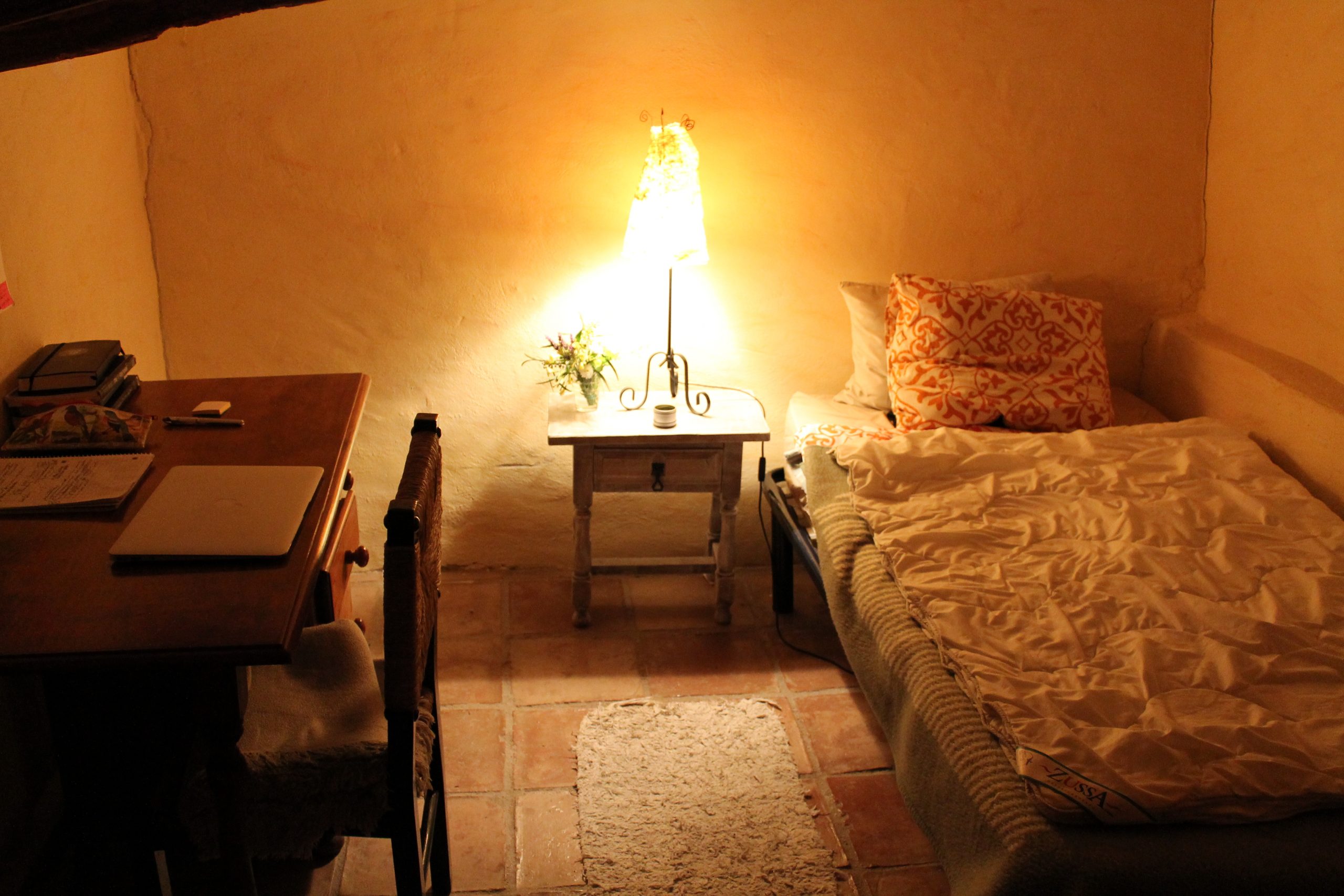 This is what I did last spring, when I went to Spain with three other writers. We stayed in a marvelous Airbnb in the mountains, where we each had a small room with a desk in it.
We shared food, cooking and cleaning duties. We created a writing schedule for ourselves, and that included time for rest, solitude, exercise, and sightseeing. We shared our work in the evenings, and met over lunch and dinner to discuss our process and help each other out.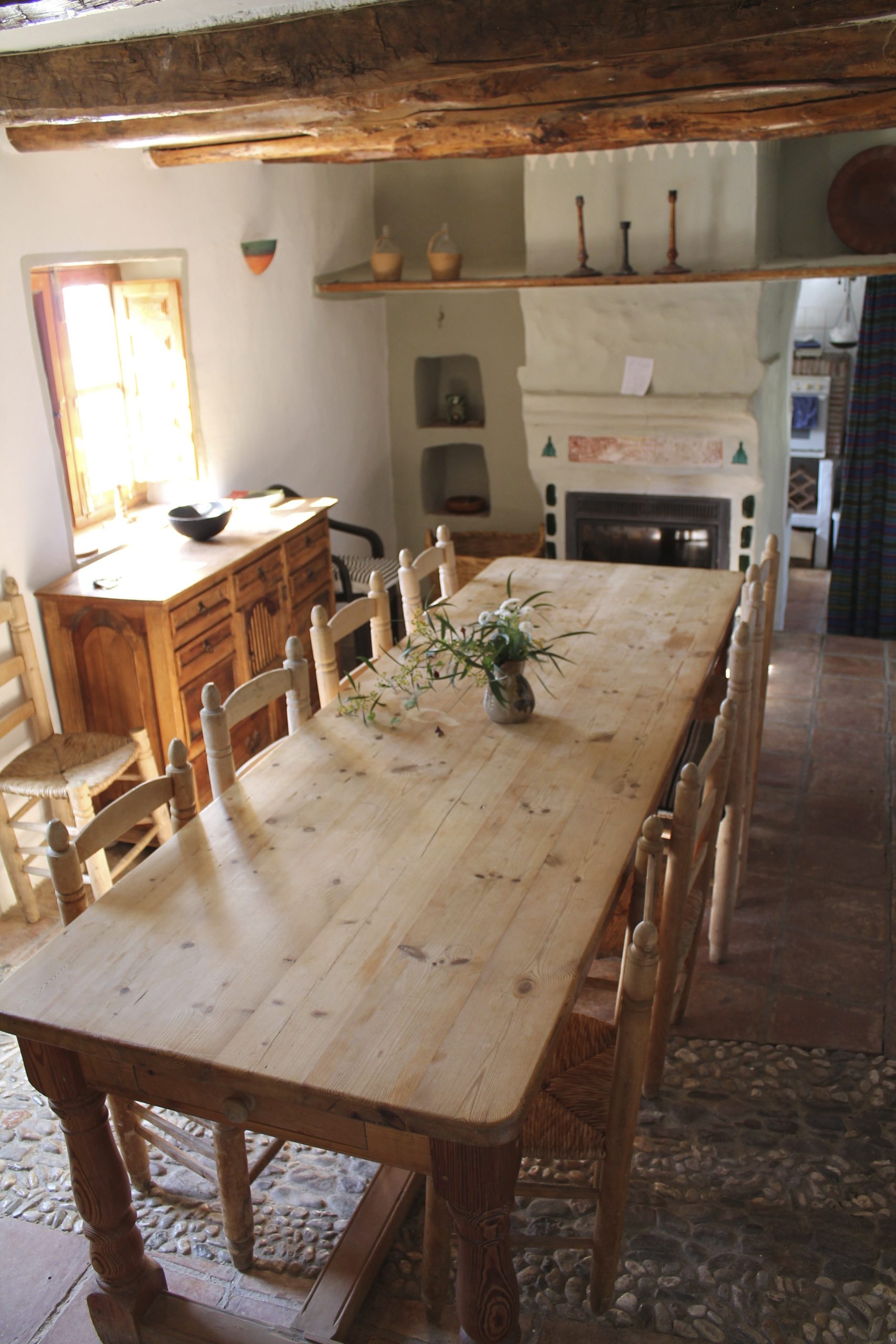 It's good to have a few getaway venues in your back pocket, whether it's for a solo retreat or one shared with a writing group.
In my experience, hosts are happy to welcome writers, because we're usually quiet guests. Some homeowners actually prefer that writers rent their homes for retreat – and I think I know why. Creative writing creates great energy. You know how it feels when you step into a room where someone has been writing? Yeah. I love that feeling.
I recommend organizing a retreat with 2-3 other writers. If you can all get away for a week together, the creative potency of your time will increase exponentially.
I prefer to keep decisions to close to zero when I'm on retreat, especially in the morning when my mind is fresh – that way I keep my decision-making powers for my writing instead of day-to-day activities.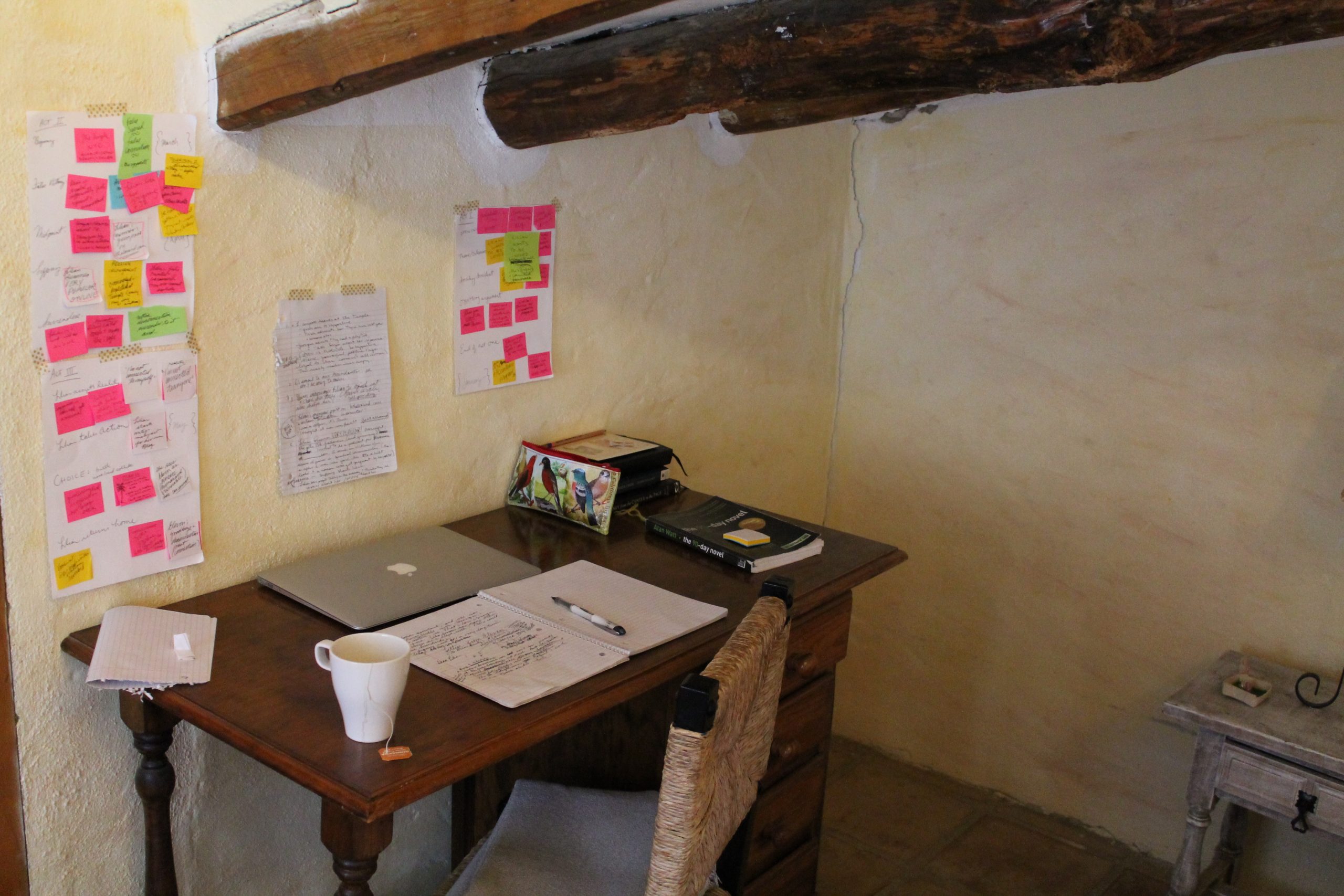 Make a simple meal plan, and decide ahead of time who will be responsible for preparing the meals each day, so you don't waste your retreat time on logistics (tip: having the same breakfast every morning cuts a lot of prep time out of your day).
Start your day with writing together: this calibrates your collective focus and frequency. Then, follow your daily schedule. Make sure your days include enough space for rest and exercise as well as writing and reading.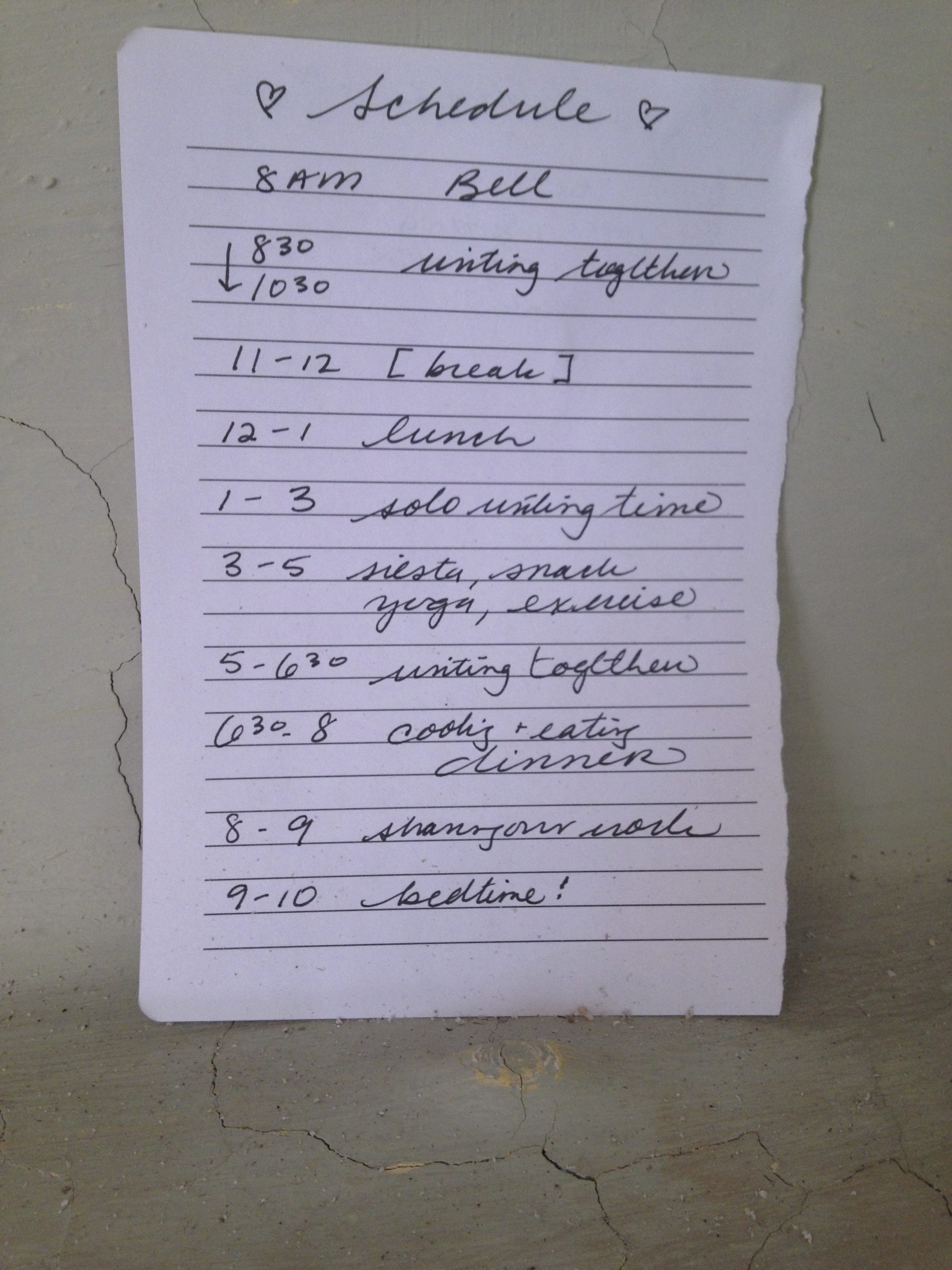 Here is an example of a possible schedule:
7am - 8am        breakfast
8am - 9 am      write together, at the same table (with prompts)
9am - 12           personal writing and/or reading time
12 - 1pm           lunch
1pm - 2pm      discussion and/or siesta* time
2pm - 3pm      exercise**, hike, adventure time
3pm - 6pm      writing time (and dinner prep)
7pm - 8pm      dinner
8pm - 10pm    sharing, reading, discussion time    

* I always make time for naps during my writing retreats – creative immersion is such deep work, my body-mind needs more rest than usual.
** Don't forget to get some exercise every day to keep your mind clear and ready for new insights.
Depending on where you are staying and who you're writing with, you might choose to schedule in more solitude, or more adventure. It's up to you. That's the brilliant part about making your own retreat!    
Feeling inspired? Good! Now take a look below for some ideas. Your writing getaway awaits.
xo,

ps: Thanks to my friend Chris Kay Fraser at Firefly Creative Writing for providing this list of Ontario writing getaways to help me with today's list!
pps: If you know a beautiful place that would work for a private writing retreat, please add to this list by sharing the link in the comments below. I have found several retreats in Ontario and California especially, but what about the rest of the world?    
Writing Retreats for Your Wish List is a 3-part series. Read the others: :
Part 1 Workshops: retreats that include instruction.

Part 2 Residencies: personal retreats (with meals and community).

Part 3 (see below) Self-Directed Retreats: beautiful locations in the world to get away, and write. You provide the food and make your schedule.
---
Self-Directed Retreats: private getaways for writers.
Writers can apply for one to three week residencies at this beautiful, rustic, historic retreat centre about an hour and a half from Portland, Maine. Preference is given to artists from the state of Maine, but everyone can apply. If accepted, you'll be given a cabin for a studio – each cabin has its own basic kitchen, bathroom and bedroom. You'll be responsible for your own transportation, food, and supplies. The season for residencies is open from late June to mid-September.
Writers stay in a charming century home with owners Chrissy and Kyle, located just outside Picton in Prince Edward County, Ontario. Residencies are flexible – you can come from one weekend up to 2 months. Fees are affordable. Spark Box Studio can facilitate up to three residents at a time; you'll stay in a private bedroom and a dedicated semi-private studio space, and share meals together.
Rent one of three small apartments designed for writers and artists in the tiny town of Tamworth (about two and a half hours from Toronto). The suites are private, with their own kitchen, bedroom and bath. The hosts are designers themselves, so I think the suites are pretty sweet, if you know what I mean.
The Nook, Ontario, Canada
This is a small off-grid cabin in Prince Edward County. It's super-cute and rustic – if you want hot water to fill the claw-foot tub or electricity to power up your laptop, you use a generator to make power. There's a wood stove for the winter, and access to a lake for swimming in the summer.
A lodge-like atmosphere in Northern Ontario, where artists and writers can stay for affordable weekly rates. Private rooms and spacious common areas will accommodate several writers at a time – this might be a good place to book for a self-directed group retreat. Acreage, waterfront, and kayak/snowshoe rentals available.
This centre hosts spiritual retreats during the year, but you can rent the facilities and cabins for self-directed retreats as well. There are a few buildings on the property to choose from, for retreats of different sizes – McMahon Cabin and Blackbird Cabin both look very peaceful for solo writers; writing groups will want to look at the others. Lake access, and a labyrinth in the woods. Not a good fit for writers who are uncomfortable with Christian symbolism.
This is worth bookmarking – Joyce Maynard built this tiny house on her property so she could mentor writers one at a time while giving them a quiet place to get work done. You're responsible for your own transportation and supplies, but you would also have a writing mentor/buddy who is living on the property, too – you can meet with her after a day of work to look at a paragraph or an idea together. She recently held a contest to select the first resident, and that deadline has passed – but maybe next year!
Recommended by more than one writer I know and trust. This is an ashram, so there is a spiritual aspect to the surroundings. Writers on personal retreat give two hours of service to the Yasodhara community each day (and work assignments are ability-appropriate). There's a minimum of a two-week stay. This ashram is situated on a lovely lake, and it's a ferry ride away from Nelson, British Columbia.
If you own your own home, you can exchange it with another home owner anywhere in the world – this is a great way to make yourself a writing getaway without having to pay more than travel expenses. One of my readers wrote to say that she would be delighted to exchange her home on a BC Gulf Island for some time in a city or elsewhere, just to write. (SSMind students, I encourage you to use the Story Is a State of Mind FB group to self-organize this way!)
Airbnb, International
This is what the four of us used for our retreat in Spain: we searched Airbnb for a villa in the south of Spain that could accommodate four writers (we each wanted our own room), and when we found one we liked, we asked the owner if he could put a desk and a chair in each room. Voilà – we made ourselves a writing retreat. It takes some organizing, but the options are endless.
Do you know a beautiful place that would work for a private writing retreat? Please add to this list by sharing the link in the comments below. Thank you!  
---