Organize your story drafts: a 3-step tutorial.
When you're writing short stories or essays, your work exists in pieces and layers. There's your freewriting, your first drafts, your second and third drafts, your semi-finished drafts, and your submitted and/or published stories. You with me?
Where does all of this live in your computer? How do you keep from feeling overwhelmed when you sort through it?
It's time to build a filing system for your work-in-progress.
This tutorial will show you how to create a tidy, powerful, and (dare I say it?) FUN filing method that will clean up your computer, make writing easier, and get you published faster.
Why published faster? Because you stop wasting time when you have an organized system. You work smarter.
This particular file naming idea was given to me a long time ago, but I can't remember the source (if you know who thought of this first, let me know). It works. Plus I love the cooking verbs. You can use any kind of metaphor you like, though.  
Step one: Make new folders + give them good names.
1. Start by creating and naming a big folder to hold everything. I call mine WRITING. I made it bright red, so it shouts when I see it.
2. Save this folder using Dropbox. (Presto! Now your writing is backed up.)
3. Inside your WRITING folder, create the following 5 folders: Fresh Ingredients Cooking Ready Published Leftovers Use colour to highlight the important ones. Fresh ingredients and Cooking are the ones you'll use most often — tag those folders with two sassy colours. Here's how it will look: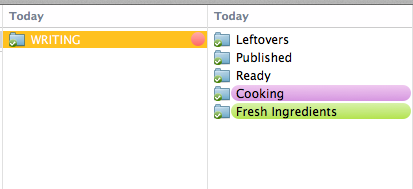 Step two: Put your work in the appropriate folders.
Fresh Ingredients: This is where your work goes when you first transcribe it from your notebook into a Word doc. This is for raw materials, nonsensical freewrites, ten minute daily prompts, and random story ideas. The Fresh Ingredients folder is beautiful because it is full of possibility and amazement: there is no judgment or criticism allowed here. It's a farmers' market — it's where you go shopping when you want to write something new.
Cooking: For your story drafts. When your raw material becomes a piece of writing with some form or structure, substance and weight. When you have given a piece of work its first title. When you've sent a story to a reader or workshop for a critique and you are working through the edits. When your story needs to be shelved for a few weeks so you can get some perspective. This folder is for your story drafts. You'll probably be working within this folder most of the time.
Ready: Finished work. When you've worked on a story so long that you know it's as good as it gets. When it was in the Cooking folder for a few weeks or months or years, and you came back to it and still thought it's the best it can be. When you've submitted it to a magazine and you're waiting for a response. When your story is ready, file it under Ready. This is a fun folder! It's like a cooling rack for your bundt cake.
Published: Stories that have found a home. This is where you put your work after you get an acceptance letter. If you don't create a folder for published work, how will your stories ever get published? This was my logic when I created my first Published folder. If it's empty at first, that's fine.
Leftovers: Stories and edited pieces of writing that don't have fresh energy anymore. You don't want to look at them right now, but you don't want to delete them either. They live here. You might never look at them again: that's okay.  
Step three: Maintenance and sub-folders.
Fresh Ingredients: Create a folder for every month of your freewriting and collect the bits there. If you are doing daily writing prompts, create a new document for every piece you write. Title these daily pieces by subject, and file by month. Say you've been writing every day this week. You'd have four pieces so far. Give them wee titles, like this: pincushion list of stars canary Zelda Then put all of those into a folder called [MONTH] [YEAR]. It would look like this:

Even if you file your Fresh Ingredients away for years and forget everything you wrote, you'll be so curious about those little freewrites later, when you come back!
Cooking: First create a folder and title it for your story. Say your story is called GOOD LUCK. The first folder you create inside the GOOD LUCK folder is called DRAFTS. This is where you put every version of your story except the current one. Title each draft of your story by date. When you work on a draft and make changes to it, click "Save As" and give it a new date. I keep my most recent draft outside the DRAFTS folder so it's easy to find.

Ready: This is an easy one. When you get an acceptance letter, just click your story folder from Cooking and drag it into Ready. Done.
Leftovers: This one's easy, too. When you're tired with a draft and want to archive it, click the folder and drag it here. If you cut something out of a draft, create a new document for it, and then drag it here. I don't date my leftovers — but that's just a personal preference.
That's it!
Please invest a bit of time to organize your work in progress. This nifty little system will last years and save you headaches and overwhelm. And when you get your acceptances and confirmations, you'll know just what to do.
Novelists must have similar issues with their chapter drafts, but I'm no expert on novel writing, so I've just given you my short story folder method. It might work for novel chapters too -- novelists and memoirists, please leave me a comment and let me know!
Now it's your turn. Don't just read the tutorial — do it! Leave me a note in the comments and let me know if this system works for you.
Also, can you help me think of another cooking term for "Published?"
xo,

Photo credit (top): Julia Joppien on Unsplash
---