SURPRISE! It's my birthday! A discount + a wish for you.
The rocks in Georgian Bay are part of my beloved Canadian Shield. These are some of the oldest rocks on earth, between 2.5 to 4.2 billion years old. Here we are together, one month before my 49th birthday.


According to astrologists, today is an excellent day to GO BIG AND HAVE A PARTY! Plus Mercury stationed direct yesterday, so, yay! Everything should work now! Time for connection and clarity!
It's my 49th birthday tomorrow, so I'll take it. I mean, it's literally in the stars.
High five, cosmos!
Questions for you:
What's becoming clear for you this week? 
What kinds of good things can you put into your life?
What's something fun that you can do today?
What would feel big and expansive, and move you toward what you love?
Here's something that might hit the spot.
If you don't already have your master class of creative writing craft, the CRWR500 syllabus of your dreams...
The reference manual you love to consult on all things writing mindset, technique, theory and practice… 
If you haven't already done a writing course that teaches you the craft principles you actually need to know (and practice) to write well...
Maybe this weekend is a good time for you to go for it.
To celebrate my birthday, all day today and tomorrow you can use the code BIRTHDAY49 to get $49 off the Story Course! 
This course is my perennial bestseller, the one writers have loved since I released it in 2011.
It's self-paced, packed with instructional videos and practical assignments that make you a better writer. And once you get it, you have the resources for life. 
🎉
If you do have the Story Course already...
Why not open it up this weekend and HAVE FUN WITH YOUR WRITING!?
Remember how exciting it is to write something that surprises you? The joy you feel when you hear the voice of a character in your mind? The thrill of trying something new and making it work?
Go do it!
My wish for you: that you have fun. Okay? Savour the clarity and connection you feel when you're actively engaged with your writing brain again.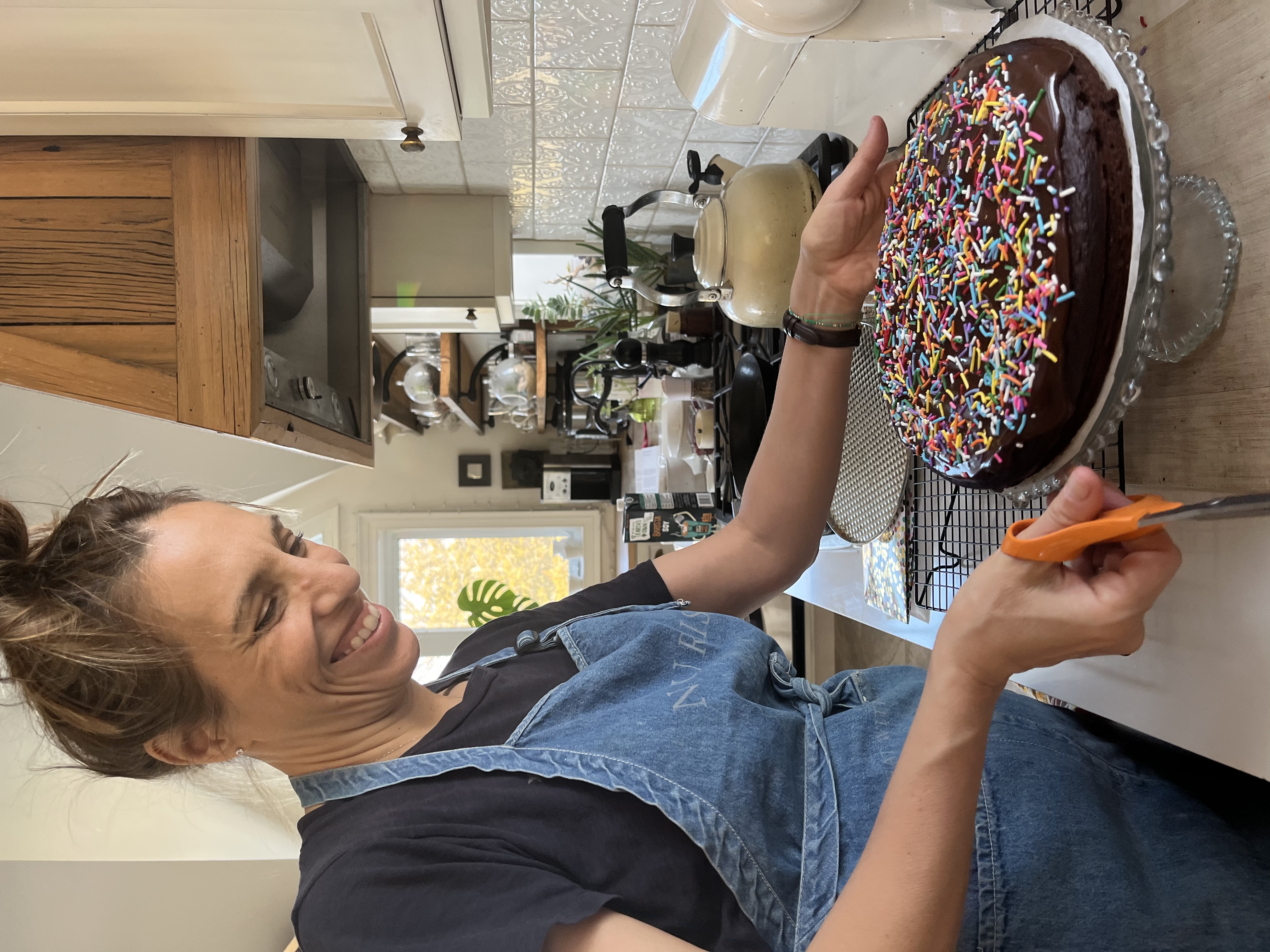 When you're having fun, it's a sign that you're on the right track.
Sending you love, confetti, sunshine and chocolate cake all weekend long — and beyond.
Love, 
P.S. THIS CAKE IS FOR MY PARTY!
I'm sharing my two favourite chocolate cake recipes, both by Anna Jones.
The most delicious one is her Chocolate Cloud Cake (pictured above). The easier-to-make (also yummy!) one is her Vegan Chocolate Fudge Cake.
You can decorate the top with elegant edible flowers like she does, or confetti sugar sprinkles like I did, above.