Announcing Little Bird Stories Vol. 6!
It's a big deal to enter a writing contest. It's not easy to whip up a short story, keep it under a specified word count, revise and polish it by a deadline, and then immediately show it to a writer you respect.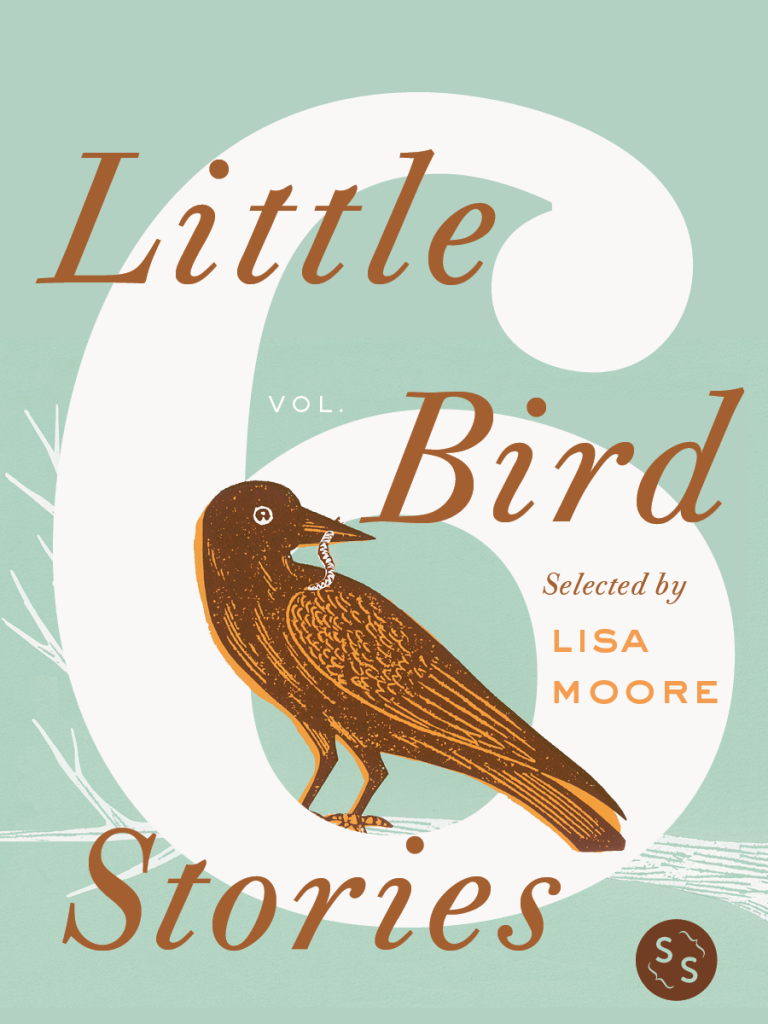 You have to do it without thinking too much, or you'll talk yourself out of it. To enter a contest, you have to get out of your own way.
That's why I run this contest. Because finishing a story is a success. Everything Story Is a State of Mind School offers — The Daily Prompts, the Little Bird Contest, The Story Course — exists because I want you and your writing to hang out together, in a happy place, without thinking too much.
I like to see what you can do when you get out of your own way.
This spring, 96 short story writers from around the world took our challenging and random Daily Prompts and wrote them into something real.

Lisa Moore was our judge this year. She read every one of the entries. This is from her introduction:
In all of the stories I read for the Little Bird Contest there were characters with blood coursing through their veins. Things happened to them. They caught my attention. I wanted to know how it would all unfold.
The Daily Prompts, perhaps paradoxically, free the imagination by pointing out a single direction in the midst of infinite possibility. Go this way! Try this!  It was so exciting to see that the stories using the same prompts were as different as chalk and cheese. They were each original.   
Opening the first draft of The Little Bird Anthology and reading the winning stories back to back for the first time is one of the sweetest moments of the year for me. (Another sweet moment is calling the winning authors to tell them the good news.)
This year, dear reader, I am delighted to give you this smart, moving, chilling trio of stories. Each one would be perfect to read with breakfast. Or all three, on a lazy summer afternoon.
Buy the collection now, and start reading right away.
---
The winner of this year's Little Bird Contest is Laurie Myers-Bishop, author of "Mary-Marie's Party."
First Place ($1000):
"Mary-Marie's Party" by Laurie Myers-Bishop, from Waterloo, Ontario, Canada
Write a list titled "Things I have cleaned." 
Runners-up ($250 each):
"Where Fortune Lies" by Suzanne Biro, from Odessa, Ontario, Canada
Describe the hands of a person you love.
"Experience™" by Lindsey Smith, from Magnolia, Texas, USA
Write the scene in layers, like an onion. 
---
Congratulations Laurie, Suzanne and Lindsey! I loved your stories.
Congratulations to everyone who submitted this year! Thank you for honouring your writing, and for giving us your words.      
But wait! There's still one more huge prize left to announce!
Every year we use one of those online number generators to pick a writer at random from all of the contest submissions. That lucky writer receives a full scholarship to The Story Intensive this fall.
Congratulations, Donna Schwender!
Donna will pick the teacher she wants to work with, and she'll receive a full semester of writing instruction this September to December.
By the end of the year, she'll write another brand new story, immerse herself in a deep writing practice, get feedback on all of her assignments, and connect to a group of solid, inspired writing friends.
Remember, registration for The Story Intensive opens in a couple of weeks. If you want to be notified when it's time to register, make sure you're on the list.
---
Gratitude:
Thank you, Lisa Moore! You are a generous and insightful judge.
Thank you, Michel Vrana! Your cover designs make us swoon every time.
Thank you, Bronwyn Kienapple! You managed every single moving piece of this project with aplomb.
Many thanks and high fives to our contest supporters, advertisers, and partners this year: The New Quarterly, House of Anansi, The 49th Shelf, The Malahat Review, The Writers' Trust of Canada, and Literary Press Group of Canada. (* If you'd like to be a supporter next year, please let us know!)
---
Now please download your copy of Little Bird Vol. 6! It's so good. (The last line of the winning story gives me goosebumps.)
Happy reading everybody!
Love,

ps. Humans have evolved over thousands of years to rest when birds are singing, because it means they are safe. When birds stop singing, our bodies instinctively know there's cause for worry. Proceeds from The Little Bird Anthology go to the Pelee Island Bird Observatory, to help protect our migratory songbirds.
---
LITTLE BIRD STORIES
Subscribe to Little Bird Stories, and read what winning writers did with prompts in previous years! Get all published volumes of Little Bird Stories right now, and receive a new anthology of fresh short fiction every year.
A lifetime subscription is $25.
---