Express the inexpressible.
I want to tell you about an amazing writer and teacher. 
You might know this unicorn already: she's a graduate of our school, she was a guest mentor for us in Centered this year, and she's been publishing her unique, critically-acclaimed personal essays widely in magazines and journals for years. She's an exceptional teacher of creative non-fiction, and she created her own magical creative empire. 
If you don't know Nicole Breit yet, it's time you were introduced properly.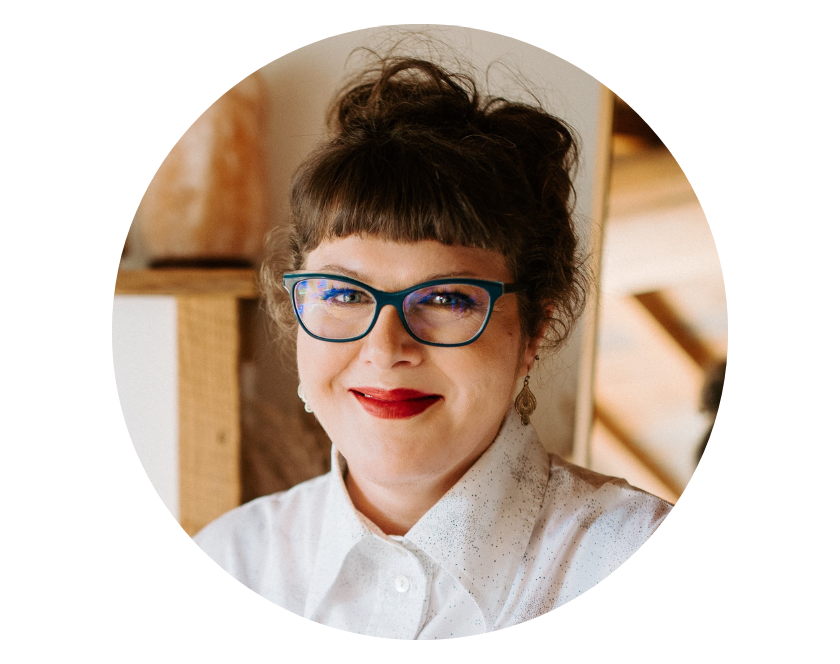 I met Nicole years ago. It was a sunny summer afternoon in Picton, and we were drinking tea in the Vic Café. Right away, I knew she was special — she asked phenomenal questions, and really listened to my answers. We talked about writing, of course, and how so many writers (ourselves included) are INFJs and INFPs, trying to express the inexpressible through our art. 
I left that conversation swirling with ideas. Now that I know Nicole better, I understand that this is the hallmark of working with her. She has a unique and unusual way of seeing the world and our stories. She's an artist, a teacher, a phenomenal storyteller, and writing is her laboratory. 
And her methods work. Writers who graduate from her Spark Your Story programs achieve big creative breakthroughs and wish come true results. Many go on to publish their work and win awards.  A recent example: author Rowan McCandless began her debut memoir as a series of essays in Nicole's course, and was a finalist for the Governor General's Award last year!
Because you're reading this, I think there's a good chance that you're an intuitive writer, curious to new ways of expressing what you think and feel. If you're ready to add new tools to your creative toolkit, I think you'll love Nicole Breit's writing workshops. 
Think joyful curiosity, rule-breaking, bringing your language into non-linear, visual forms you never thought of before... and writing your own personal stories as the beautiful outlier you are.
If you've taken my writing programs and you want to go deeper into memoir, creative non-fiction, and personal essays, Nicole's programs are a natural next step for you.
And if you haven't worked with me yet, maybe you're reading this today because you've actually been waiting for this introduction and invitation.
Learn more about Nicole Breit's Spark Your Story Course Bundle here.
This class is for you if:
You have a story you want to write, but you think it's too weird/mysterious/transformational to express in linear form. 

You understand the world in colour, sound and image, and want help writing your thoughts with deep sensory awareness. 

You're intuitive, curious, ready for a new challenge, and long for a flexible, joyful way to use language.

You feel you have something to share, but words feel insufficient to hold the emotion you want to express. 

You're bored with your own style, stuck in a rut, or have lost your creative spark – and creative experimentation is just the thing to get you feeling curious about your craft again.

The story you want to write is powerful because it is tender and vulnerable, but you are holding back because you don't want to be overwhelmed by the emotional experience of writing it.

One of the benefits of writing in experimental forms is that non-traditional approaches can help you find your way into difficult material without the emotional fallout. This is a creative and compassionate win/win: breaking form allows you to write with discernment, without re-traumatizing yourself. It also creates stronger work, fresh writing, and stories that surprise and delight readers.
If you're feeling drawn to write CNF, personal essays, and memoir but struggle to get through a draft, you're not alone. Your resistance is there for good reason: your mind and body want to protect you from the harm of re-living a significant emotional experience.
You don't have to force yourself through writing it.

You don't have to give up on writing it, either.
Nicole Breit's methods teach you how to use language with power (not force). This is masterful storytelling: learn how to write the inexpressible, integrate your personal experiences through your art, and share your story with others.

Right?! I'm so excited that Nicole Breit exists on this planet at the same time as we do!
And when you create the piece that you thought would be impossible for you to create, come back and tell me about it. I want to read it. 
With love,
Photo credit (top): John Jackson on Unsplash.
This post contains affiliate links. I only recommend books or products I trust.