Are we crazy? Maybe.
What if we stopped trying to get it right?
What if we wrote to answer our own questions, to meet our own standards?
What if we wrote what we wanted to read, even if our work made some people uncomfortable?
"You're entirely bonkers. But I'll tell you a secret. All the best people are."
— Tim Burton, from his film Alice in Wonderland
This spring, I got to see Yayoi Kusama's Infinity Mirrors. Kusama is an artist who creates obsessively; her vision and creativity consume her.
This is a woman who experiences infinity, and makes art that shows us how to experience infinity.
Kusama was born in 1929, and she was supposed to be a housewife. Instead, she was moved to make art. She lives in Tokyo now, in a mental institution. She's taken to her studio each day so she can work. Watching her work with laser focus as she makes thousands of repetitive marks on the page is both disconcerting and fascinating.
She doesn't seem entirely "well." Also, she's obsessively making infinity.
In her Neapolitan novels, Elena Ferrante's character Lila is a magnificent writer. She is the Brilliant Friend of the eponymous novel. But eventually Lila abandons her writing, gets married, and tries to take her life in a different direction. She suffers: she experiences what she calls "dissolving boundaries" — episodes when the edges of the world feel like they are cracking apart, everything spilling into everything else, and there is nothing that can contain her.
I was reminded of Lila's dissolving boundaries when I saw Yayoi Kusama's Obliteration Room.
When Kusama was a young woman, she started seeing the world dissolve into spots. This installation is her way of showing that to us.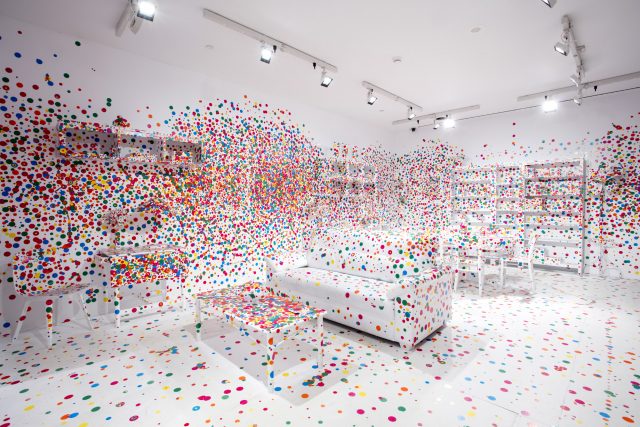 When you're in one of Kusama's installation rooms, if you're lucky, for a minute you can feel like you're part of everything, forever.
Seeing infinity is no small thing. It could make you feel crazy, especially if it was out of your control.
Several years ago I visited another show that came to the AGO: David Bowie Is. In one of the pieces I remember, Bowie had said he watched his uncle battle schizophrenia, and he knew that he needed to make art if he was going to survive.
Bowie embraced his weirdness and his brilliance. He made people uncomfortable. He made his art.
What if you don't have to be "well" to be brilliant?
There's a scene in Radiant Shimmering Light where my protagonist, Lilian, drops the important obligations in her life to go to the beach and make a sculpture. It was a scene I wrote several times before I got it right.
Is Lilian well? Is Lilian unwell? Is her art any good? Is it not-good? These are the questions that rumble beneath the scene.
Lilian feels consumed by her creativity on the beach. It's the only important thing — her connection to the sand and the ocean and the image that's alive in her mind and body as she makes the unknown-until-she's-finished thing that she's making. I never say outright if the sculpture she makes is "good" or "not good."
I never say outright if Lilian is "well" or "unwell". I only wrote how she feels when she's working, and what some random observers say when they see her.
She feels amazing. To the other people in the scene, she looks a little off. So.
Our culture is obsessively searching for wellness. What would happen if we put more time and resources back into our creativity?
Maybe the part of us that feels "unacceptable" — our struggle, our fear, our uncertainty, our shadow — is actually perfect as it is.
Perhaps if we could include that part of us when we write, it could be the source of something magnificent.

Photo credits: Yayoi Kusama, Infinity Mirrored Room – The Souls of Millions of Light Years Away, 2013. Photo courtesy of David Zwirner, N.Y. © Yayoi Kusama.
Yayoi Kusama, installation view of The Obliteration Room at the Art Gallery of Ontario, 2018. Photo by AGO Image Resources; video by AGO Media Productions. © Yayoi Kusama.
---