Announcing Little Bird Stories Volume II!
"Every one of these short fictions is distinct from the other -- sui generis, as all very good stories are. Each one fulfills its destiny..." 
— Zsuzsi Gartner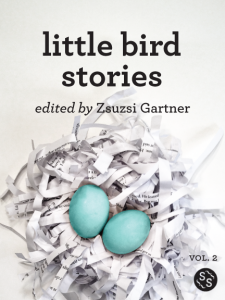 Little Bird Stories Volume II is ready!It's smart! It's funny! It's sad! It's beautiful! 
Sparkling congratulations to Frances Phillips, who won first place for her story, No Street Called Crow. (Bird reference in title and content entirely coincidental?)
Zsuzsi Gartner writes: "No Street Called Crow is a sophisticated story that contains a lifetime (or rather, lifetimes) in just a few pages... smart, wise, and heart wrenching."
Usually there's one winner and 2 runners-up. But the submissions were so good this year, Zsuzsi called me to ask if she could have 4 runners-up instead. Then, she asked if she could have 5. *
I was delighted to make it so.
---
First Place:
"No Street Called Crow" by Frances Phillips
Runners-up:
"Who Does That?" by Lana Pesch
"Forensic Study of an Apple" by Nikki Vogel
"It Starts Wonderful" by Tom McMillan
"Dolphin Lengths" by Donald Wilson
"You Scar Me So Blue" by Dorianne Emmerton
---
About the cover: Michel Vrana is the genius who designed the cover for This Cake Is for the Party. I loved working with him on the cover of my book so much,** I asked him to put something together for Little Bird.
The image on the cover is actually made out of the paper version of these digital stories -- printed and shredded and made into a nest. The eggs, too, are real ones -- one for each year of the anthology, of course. Brilliant.
(If you're into book design, you should probably follow Michel on Twitter.)
Make this stunning + supercharged eBook magically appear (i.e.: download it). I donate all of the sales to PIBO, an organization that helps monitor the health and safety of thousands of birds as they migrate through North America. ***
Thank you again to everyone who submitted. You made me very proud. Stay in touch for details about next year's contest.
xo,