In the spotlight: Heather Debling
Oh, the joy that is in the details! Read Heather's excerpt and travel with her protagonist, Barbara, to a sound-and-colour drenched carnival procession in Argentina. Go ahead. Let yourself forget where you are right now and succumb to the sound of those gold jangling bells, the clinking of beer bottles, and the "languid brassy sound" of trumpets.
To the lovely souls who have sent me emails to ask about showing vs. telling: pay close attention. This is what showing, not telling looks like.
What I love about this piece - beyond the obvious, of course (the talc-covered hands, beribboned flowers in the pile of stones, floating flakes of spray foam!) - is how Barbara's uneasy state of mind is characterized through the description of everything she sees. Heather creates the tone of the story (and Barbara's consciousness) in and through writing what Barbara sees — and how she notices it. In this way, we get to feel the way she does: bewildered, overstimulated, unsteady, frightened, curious, and blessed.
---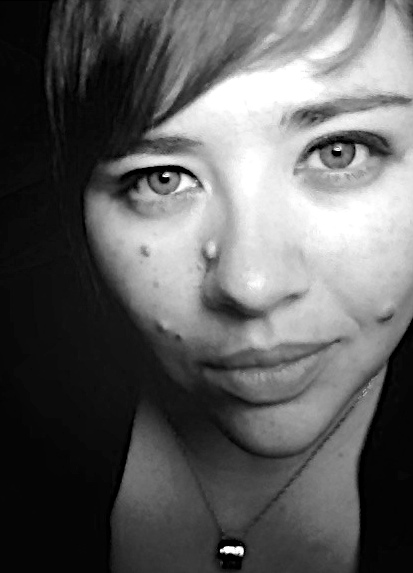 Meet Heather
Heather Debling is a playwright and fiction writer based in Stratford, Ontario. Her fiction has appeared in The Antigonish Review and Room. Her play, The Maple Leaves, a WWI drama based on real-life concert party groups, premiered at SpringWorks, Stratford's juried indie theatre and arts festival, in May 2013.
Handwriting or computer?
A mix of both. Handwriting for my freewriting and initial exploration of a story. Then I switch to the computer when I start intensely working on the first draft.
Page count or time count?
Time count.
First drafts or revision?
I love the first drafts. It's probably when I'm happiest in my writing. But I'm trying to learn to love revision.
Writing solo, writing partner, or writing group?
I've been fortunate over the past couple of years to develop a really supportive writing community, and though most of my drafting is done solo, I know that the support of those other writers really enables my own work because they offer encouragement but also push me to be braver and more authentic in my work.
Earplugs/quiet or headphones/music?
Headphones and music. I usually have a playlist for each story – songs that speak to the characters or theme.
How do you make time for your writing practice? How do you handle resistance?
I started a daily writing practice in June 2012. I'd wanted to be able to write every day for several years, but I struggled with actually doing it, with sitting down in the chair and staying there and writing when I wasn't inspired.
A lot of factors contributed to me finally being able to make that commitment, but the biggest push was something I read in Dorothea Brande's Becoming a Writer. One of the tasks she assigns the reader is to schedule writing time each day for a week – just 15 minutes – and she says once you've decided on that time, you have to show up. She writes at the end of the chapter, "If you fail repeatedly at this exercise, give up writing. You resistance is actually greater than your desire to write." It was precisely the tough love I needed. If I wanted to be a writer, if I wanted to call myself a writer, I needed to start showing up every single day.
What's the best advice you would give a new writer?
Say yes.
That's one of the biggest lessons I've learned over the past couple of years. I used to be committed to my writing, but I was also very timid about it, particularly my playwriting. I didn't really put myself in situations that pushed me out of my comfort zone. But eventually I started saying yes to opportunities that part of me was really terrified of, but which I knew deep down were things I needed to do to take the work further. I even pushed myself to self-produce one of my plays at a local indie theatre and arts festival even though I had no experience and all my ideas about 'putting on a show' were influenced by old Mickey Rooney and Judy Garland movies. Saying yes has helped me refine my skills, learn a great deal about presenting (and marketing) my work in an authentic way, and connect with a much wider community of artists. And it's also made me braver within the writing itself.
So I would advise new writers to say yes to any and all opportunities that come your way that you feel in your gut are right for your work. Say yes to opportunities that scare and excite you. Say yes to possibility.
Tell us about your experience with Story Is a State of Mind. How it has changed your relationship to writing?
Story Is a State of Mind has absolutely changed my relationship with writing. It's helped me focus on the process, not the product. It's given me permission to just enjoying writing. And it's brought me to an incredibly supportive community of writers.
Tell us about the excerpt you're sharing today
This story came out of Lesson Two in Story is a State of Mind. Almost immediately after reading the prompt to start a story with the title "The End of Snow" I had an image of a Canadian woman in Argentina trying to buy a chicken and winding up with five because she couldn't communicate properly. That woman turned out to be Barbara, a middle-aged woman who runs away to South America for a year to avoid winter only to find herself in the middle of a record-breaking cold snap. After finishing the third draft I changed the name of the story to "Somewhere Warm, With No Snow."
---
Excerpt from Somewhere Warm, With No Snow, by Heather Debling
Just before deciding to settle in Mar del Plata, Barbara had headed to the north for carnival, eager for what she thought would be a smaller, more authentic experience.
It was unlike any procession Barbara had ever seen. Most of the people wore old, faded t-shirts, jeans or khaki shorts, their faces, arms, and clothes stained with a chalky powder, but mixed in among their drabness were men dressed in colourful devil costumes, harlequinesque figures, the strips of orange and blue and yellow and red overlaid with rounded mirrors encased in a stitched diamond of sequins. There were small gold jangling bells on the edges of their jester-shaped tops and running down the sides of their trousers. Some people played drums, others clanged out the beat on long-necked beer bottles. And there were trumpets, a languid brassy sound that everyone but Barbara seemed able to settle down into.
A crowd had gathered around a large pile of stones. Flowers sprouted out of the centre, the blossoms entwined with brightly coloured ribbons and streamers, the stems watered with upturned liquor bottles. An elderly woman supported by two young girls stepped forward and left some long leaves at the base. Next, a middle-aged man knelt, his hands pressed against the rocks as others revelers came forward anointing both him and the pile with wine and beer.
The man standing to Barbara's left seemed a bit shaky on his feet. She pulled slightly away, not sure if he needed help or if he was just drunk. A small girl ran up to the man and pressed her talc-covered hands onto his belly, giggling as he staggered backwards. He raised his hand, Barbara thought at first, to strike, to swat at the child like some troublesome fly, but instead he blessed her, making a trembling sign of the cross in the air above her head.
A woman tapped Barbara on the arm. Her hair was caked with talc, and Barbara could see she'd hastily wiped the powder from her glasses, bits of white pushed to the outside edges, smudgy fingerprints across the centre. The woman gave Barbara a broad smile. She waved her hands like you do when shooing chickens. Go on, go on, she'd flapped, urging Barbara forward. Barbara shook her head shyly. The woman frowned, and Barbara held up her hands, cupping the empty air as if to say, But see? I have nothing to give. The woman shrugged and went forward herself. She knelt down, kissed the stones and then rose, her arms held up to the sky, joining the swaying jumble around her.
Someone sprayed the crowd with foam. It floated through the air like big, fat snowflakes, clinging to people's clothing, their hair, their eyelashes. A flake landed on the inside of Barbara's wrist. She touched it with her index finger, and it melted, leaving a dry, flaky residue on her skin.
---
Note: These monthly spotlights showcase Mysterious Middle Drafts (MMDs). That means they are somewhere between first drafts and final drafts. This is a challenging stage! Emerging writers bravely share their work-in-progress here for discussion, but this is not a book review or critique: this is a venue for the appreciation of Mysterious Middle Drafts. Thank you for making this writing space safe and supportive.  
Discussion:
What remains with you after reading Heather's work?

Can you articulate what's working in this excerpt – and more importantly, why it's working?

How is your own writing practice like Heather's? How is it different?
Please leave a comment below. And thank you, Heather! 
---