Don't expect a cathedral. Expect a brick.
Remember when I wrote about putting my novel aside for a few weeks because I was going to be leading a retreat in Italy? And how I hoped my index cards would make it easier to pick it up again when it was time to turn my focus from teaching back to writing?
That time came.
But I put it off. For a week at first. I told myself I had jet lag, and I should take it easy.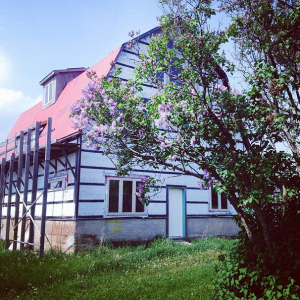 Then life happened – lots and lots of life. Ryan and I bought this old barn! We sold our house in Toronto. We are moving to the country in a week, and we are converting this barn into our new home. It has a big loft space on the top floor, and I am dreaming about bringing writers there for small, in-person Sarah Selecky Writing School retreats.
As you can imagine, there has been a lot of excitement and chaos and dreaming going on right now.
But weeks were passing, and I wasn't writing anything.
I told myself that I'd get back to my novel after the move, once I got settled. And so I packed my novel – multiple spiral notebooks, index cards, and my three page outline that's covered in fluorescent sticky notes – in a cardboard box. That felt strange.
I was telling myself I was too busy to write, but the truth was that I was afraid.
Shannon Alberta, who is featured in the spotlight below, has excellent advice for anyone who's feeling blocked, scared or alienated by their own writing.
"You know how only a really good friend will come over and help you unpack your things after you move?" Shannon writes. "Similarly, only a really good friend will help you unpack the things in your story that are still in boxes."
Like Shannon, I write solo, and I have a few writing friends who are vital. They remind me that this process isn't straightforward. That I can't know if it is good or not, and that the only way to write it is to go through writing it.
Sometimes we need someone to remind us about what we already know.
It felt terrible to put my writing in a box. I needed to unpack it, literally. But my resistance was a forcefield. It's so hard to get started again after taking a break! So I called one of my trusted writer friends for help.
"How do you do it?" I asked Miranda, who is even more busy than me.
"I wake up before everyone else," she said. "I set my alarm. I make coffee. I write before breakfast."
The next morning, I got up with my alarm, before the sun. I made myself a cup of tea. I lit the candle on my desk. And I took my novel out of the cardboard box.
And you know? It wasn't so scary.
In the early morning everything felt more possible. I was excited to see it again. I spent a quality hour with my novel, before the first birds began to sing and the sun came up.
If high expectations or fears are keeping you apart from your writing, I urge you to read Shannon's piece right now. I was very grateful to read it when I did, and I think you'll love it, too.
Shannon is one of my wise Story Intensive TAs this fall. Oh! Those lucky Intensive students!
Note: There are wonderful writing partnerships and groups coming together in the Story Course community. If you want to meet other smart, unpretentious writers and build yourself some of those vital writing friendships, start there. SSMinders are some of the most remarkable writers I've ever met. And I'm not just saying that.
Warmly,

---
Meet Shannon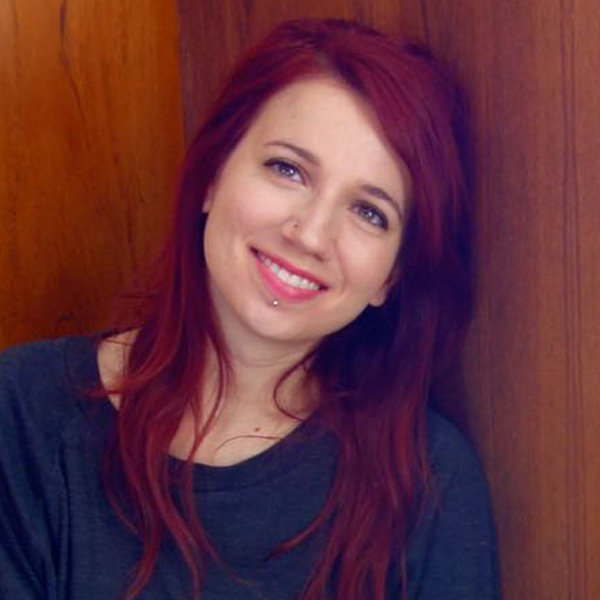 Shannon Alberta is the winner of the 2014 Eden Mills Writers' Festival literary contest. She has short fiction forthcoming in The New Quarterly and Joyland. She is hard at work on her first collection of stories, as well as a screenplay. She lives in Toronto where she is forever petting cats and eating burritos.
Handwriting or computer?
Both.
Page count or time count?
Time count.
First drafts or revision?
Revision! Usually it's only through revision that I unearth the germ. The thing that makes my heart go THUD.
Writing solo, writing partner, or writing group?
Solo, then I have a few writing friends who are absolutely vital. You know how only a really good friend will come over and help you unpack your things after you move? Similarly, only a really good friend will help you unpack the things in your story that are still in boxes.
Earplugs/quiet or headphones/music?
No music. Background noise preferred.
---
Don't expect a cathedral. Expect a brick.
As a kid I wrote constantly, and at age 9 I won a story contest. From then on, I identified as a writer. Once I got to high school though, I began to hear romanticized narratives about the lives of prolific writers. Being a "writer" suddenly felt like a label reserved for people with more special brains/geographies/experiences than me. Eventually I stopped writing.
Years later, when the urge returned to me, I stalled, fixating on the proper "writerly" traits and practices so I could safely use the label again. I carried a Moleskine. I brooded in cafes. I wrote a bit, but mostly I checked off as many writerly prerequisites as possible, so that one day the universe would endorse me as a true writer and endow me with a story. Which is how I believed stories were born.
I waited. I'd read somewhere that Hemingway would spring from his sleep in the middle of the night and sprint to his typewriter, and I'd think, "Dammit, why am I sleeping so well?" The grey cement of discouragement hardened around my heart, and more years passed. Sometimes I'd think I was being endowed with a story, finally. But it was never a complete offer. It was a single brick, not a cathedral.
Then a gift appeared. From my partner. It was a certificate for Sarah's course. Right in the first lesson, I felt the cement in my chest start to crack.
There's a famous saying in Improv: Don't bring a cathedral. Bring a brick.
Though used differently for acting, it lends itself to writing. With a slight tweak, I give you: Don't expect a cathedral. Expect a brick.
For years, I'd been waiting for a cathedral to be lobbed my way. But I've since learned that, for me, when it comes to writing stories, all there are is bricks. Different shapes, colours, weights, textures, and sizes— but just bricks nonetheless. I had wasted so much time tossing them out windows, and behind me on the sidewalk while I walked. I hadn't wanted a brick. I wanted a cathedral.
Writing your story is building a cathedral, brick by brick.
From what I hear, almost no writers have entire cathedrals fall on their heads. Maybe I'm wrong, but anecdotally, it seems that even our most cherished writers are generally stuck collecting bricks like the rest of us.
So my advice is: catch your singular brick when it is hurled at you, as though it is a swaddled newborn! Cherish each one. Don't be disappointed. Don't stand there thinking how it's a stupid, irrelevant brick. You may be confused by the odd shape, or the rough texture. It may make you feel alone. But you're the opposite of alone. You're in a long lineage of people who find time in their busy lives to collect their bricks and then build exquisite cathedrals for the world to enjoy!
---
Tell us about the excerpt you're sharing today.
Eileen, the founder of a litter-picking club at her retirement community, is knocked off-kilter by a mutiny. She is determined to regain control of the situation— provided her sidekick, enemy, crush, or dead husband's ghost stay the hell out of her way.
Excerpt from "Eileen feeds the good wolf", by Shannon Alberta
It's 4:00 a.m. and Eileen is lying in bed. Her eyeballs are dry and bobbing around in their sockets. She is thinking about the note. Typed. All uppercase. Slipped in the crack of her front door. She'd almost missed it in the low-ceilinged dimness of dusk.
She gnaws on the familiar spot inside her right cheek, even though she knows it will whine with ache tomorrow, and even though the water will be hopping up at her crotch like a stupid puppy as she lowers herself into the pool for AquaFit in 3.5 hours.
EILEEN,
WE ARE WRITING TO TELL YOU ONCE AND FOR ALL THAT NO ONE ELECTED YOU PRESIDENT OF THE UNIVERSE, OR EVEN OFFICIAL PRESIDENT OF THE LITTER LADIES FOR THAT MATTER.
CONTRARY TO YOUR BELIEF, WE ARE NOT DUMB. WE KNOW YOU SAVE THE BEST ROUTES FOR YOURSELF. EXAMPLE: WHEN'S THE LAST TIME YOU DID THE BROOK? ANSWER: NEVER. YOU'D NEVER LOWER YOURSELF TO SUCH LOWNESS AS THE BROOK. YOU'D NEVER PICK LITTER WHERE THERE ARE BROKEN BOTTLES AND SOMETIMES USED CONDOMS WHICH COULD BE FULL OF A.I.D.S.. (WE HAVE GRANDKIDS, YOU KNOW!!)
ALL YOU DO IS STICK TO THE MAIN COURTYARD SO YOU CAN WAVE AT ALL THE PASSING CARS LIKE YOU'RE THE QUEEN OF ENGLAND AND THE WHOLE RETIREMENT COMMUNITY.
AND YES WE SEE YOU WAVING AT DWAYNE. HOW COME YOU DON'T EVEN CARE THAT HIS MARCY HAS ONLY BEEN GONE THREE MONTHS???
YOU FILL ONE BAG FOR EVERY FIVE WE DO AND WE ARE SICK OF IT. IT IS TIME TO LET SOMEONE ELSE DICTATE THE ROUTES AND SOCIAL OUTINGS BECAUSE LIKE YOU WERE POLITELY TOLD, NOT EVERYONE HAS A CONSTITUTION THAT CAN TOLERATE SPICE! NOT THAT YOU CARED WHEN YOU BOOKED THE PARTY AT WACKY WINGZ BECAUSE YOU KNEW DWAYNE LIKED BUFFALO WINGS AND YOU THOUGHT HE MIGHT COME.
WE GOT INTO COMMUNITY BEAUTIFICATION TO BEAUTIFY THE COMMUNITY. AND BREATHE FRESH AIR. WE DID NOT GET INTO IT SO YOU COULD LORD OVER US OR WAVE AT DWAYNE WHILE MEANWHILE MARCY ROTS ALONE IN THE GROUND WITH BUGS IN HER EYES.
STARTING TOMORROW, THERE'S A NEW GROUP. WE'RE CALLED GARBAGE GALS, AND WE WILL ACTUALLY BE FAIR AND FUN. YOU CAN KEEP LITTER LADIES.
Eileen stands at the counter, watching the coffee percolate and trying to not think about words like 'insubordination,' or how it would feel to hold Flavia's smug head under the water at AquaFit. Only Flavia could have written the note. Plus, she has access to a printer because her grandson works at Staples. She probably bullied the other girls into going along with it, the way girls of any age do.
The phone rings.
4:15 a.m. Odd time for a call.
When the phone rings at Tina's house, even if it's daytime, Eileen watches how Tina nearly faints from fear about a dead husband or children or grandchildren.
But Eileen is calm reaching for the phone. Leonard's already dead and anyway, there are no children.
---
Note:These monthly spotlights showcase Mysterious Middle Drafts (MMDs). That means they are somewhere between first drafts and final drafts. This is a challenging stage! Emerging writers bravely share their work-in-progress here for discussion, but this is not a book review or critique: this is a venue for the appreciation of Mysterious Middle Drafts. Thank you for making this writing space safe and supportive.
Discussion:
What remains with you after reading Shannon's work?

Can you articulate what's working in this excerpt — and more importantly, why it's working?

How is your own writing practice like Shannon's? How is it different?
Please leave a comment below. And thank you, Shannon!  
---